welcome to the

Richard Karst home page
---
a short musical history || discography etc. || lifetime batting stats || professional interests || personal interests

---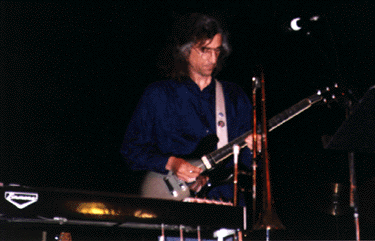 playing a favorite guitar with Concrete Buddha in Santa Cruz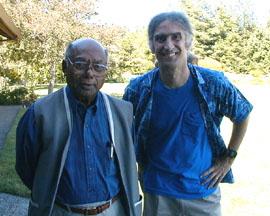 Ustad Ali Akbar Khan & Richard Karst


---
professional interests


Concrete Buddha
a metaphysical pop group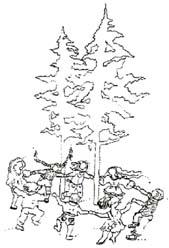 Little People's Repertory Theatre

back to top of page

---
personal interests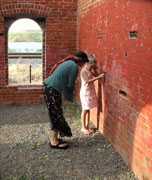 some original photographs
with a few other images too


an original political cartoon about the Enron financial scandal in 2002




Under reconstruction - stay tuned!

back to top of page

---

some odd photos . . .




Halloween gig




on tour with the Flying Karamazov Brothers


some Hawai'i pics from Big Island (Hawai'i) March 1995 :




These two Hawai'i photos by Smiley Karst -- thanks Mom!

Mahalo!


---

Richard Karst:
a short musical history
Richard Karst has enjoyed a rich variety in his music and recording career. Being a professional musician since age 15, he has had considerable experience on both sides of the microphone. While still in high school, he played first chair trumpet under the direction of choral conductor Roger Wagner at the Dorothy Chandler Pavilion. He has also performed under the batons of Nelson Riddle, John Williams and Ferde Grofé. Richard has performed in ensembles opening for such diverse acts as Joan Baez, Sheila Chandra, the Carribean All-Stars, and War, and he has shared the stage with Waylon Jennings, Taj Mahal, Dave Liebmann, Daniel Brubeck, members of Tower of Power, Mickey Dolenz, Fantuzzi, and Mongo Santamaria's band.



Richard's first music teacher:
"Shermy" from Peanuts by Charles Schulz
Richard's first music teacher was quite literally a Peanuts cartoon character. The creator of Peanuts, Charles Schulz, had a high school friend by the name of Sherman Plepler. Charles honored his friend by having Sherman be the inspiration for the character "Shermy" who appeared in the first Peanuts cartoon ever published. "Shermy" went on to become an elementary school music teacher in Santa Monica, California, where he gave Richard his first formal music instruction on the trumpet.

Richard studied improvisation with Wally Holmes, and at the University of Redlands with legendary studio guitarist Jay Graydon and Glen Ferris (trombonist with Frank Zappa & the Don Ellis Band). In 1982 he was musical director of the stage production My Country Right Or Left, and in 1984-85 he toured and performed with The Flying Karamazov Brothers, and still occasionally performs with The Fighting Instruments of Karma Marching Band/Chamber Orchestra. Richard left the Karamazovs in 1985 and joined the popular Santa Cruz world beat group Montaj. More recently he scored orchestra parts and performed in the orchestra of the musical production Ramayana, and was musical director for a production by Little People's Repertory Theatre in 2005. He is currently working on the first release by his Santa Cruz group Concrete Buddha, often described as "metaphysical pop."

Richard is a voting member of both the National Academy of Recording Arts & Sciences (NARAS), the recording industry organization that anually presents the Grammy Awards, and the Latin Academy of Recording Arts & Sciences (LARAS). A children's music album he produced was considered for a Grammy nomination in 1996, and another album of devotional music he produced was considered for a Grammy nomination in 1997.

Richard, Rupert Neve, vocalist Lalita
He has been engineering professionally since 1982 and has worked on recordings with Charlie Musselwhite, Robben Ford, Ustad Ali Akbar Khan, Zakir Hussain, Ustad Sultan Khan, Terry Riley, Shelley Duvall, Red Grammer, Morton Subotnick, and Norton Buffalo. His engineering and mixing work can be heard on several A&M Records releases. Richard has also made numerous classical and non-western ensemble recordings including orchestras, large choral groups, chamber groups, string ensembles, and piano recitals, as well as gamelan, classical North Indian, small jazz combos and Big Bands, and Latin American ensembles.

with Ustad Ali Akbar Khan
No stranger to non-western forms of music himself, Richard has performed on North Indian sitar, santoor, dilrubha and tabla and Middle Eastern oud and saz, and he has studied classical North Indian music with Ustad Ali Akbar Khan. Richard co-produced, engineered and played flute on Sai Pushpanjali, an album of classical North Indian devotional music that featured noted Bombay vocalist Lakshmi C. Saxena and Beatles Sgt. Pepper musician Amrit Gajjer on dilrubha and sitar. Richard was sampled playing the oud, saz, and trumpet for Emu System's Proteus sample players.

vocalists Lalita and Sheila Chandra
with Richard at Harmony Festival 2007
Richard has worked extensively in children's music & entertainment, too. He produced The Banana Slug String Band's Goin' Wild, which won the Indie Music Award for Best Children's Music Album in 2000, and he also produced the Slugs' earlier releasePenguin Parade which won the Parents' Choice 1996 Honor Award and was considered for a Grammy nomination. Richard has been the voice of Tyrone the Dinosaur on Linda Arnold's best-selling kids' records on A&M, and has appeared as Tyrone in her video and on Peppermint Place, a syndicated children's TV show. Richard also works with children in his local community: in 2005, he was musical director for the annual summer production by Little People's Repertory Theatre, with a cast of over 70 kids ages 7 to 13.

Richard, drummer Dave Weckl, vocalist Lalita
Broadcast radio also figures in Richard's experience: he was associate producer and head engineer of the award-winning National Public Radio children's weekly radio program Pickleberry Pie, and he has recorded and edited talks, live radio interviews and audio for TV and video by Dr. Helen Caldecott and John Robbins. He composed, recorded & produced music for a Dennis Kucinich presidential primary TV spot in 2004. On KBOQ-FM Richard hosted Music From Santa Cruz, an hour-long radio show that featured highlights from performances by University of California Santa Cruz ensembles and faculty. Richard was also head recording engineer at the UCSC Music Department for 14 years (1/1987 - 12/2000) where he recorded a wide variety of classical and contemporary ensembles and musical styles.

Howard Massey, Richard, Lalita, and Beatles engineer Geoff Emerick
at the 2006 AES Convention in San Francisco
In 1991 Richard and Daren Chadwick began collaborating in the recording studio and proceeded to arrange, produce and record children's music for artists such as The Banana Slug String Band (Parent's Choice Honor Award winner Penguin Parade, 1996 Music for Little People, and Indy Award winner Goin' Wild, 1999 Slug Music) and Mara Beckerman (Seeing With My Ears, 1995 Storysong Productions), and projects for National Public Radio (Castle Cottage and Pickleberry Pie) and a children's variety television show. In the 1990s Daren and Richard expanded into creating audio for multimedia, producing audio files for AltaVista Technologies, Nautilus CD-ROM magazine, and Fractal Design.

recording drums
Today, Richard and Daren continue to produce music by talented new artists. A recent CD release from KC Records, "Busy On You" by blues master John Morris, features the original Morris composition "Mystery Train" which was covered by blues legend John Lee Hooker. Other recent projects include My Stupid Brother's second album, Sacred Feminine Voices of Bhutan, and the 13 Indigenous Grandmothers. Richard is currently working on his upcoming CD and LP release, Concrete Buddha.

playing pedal steel guitar at a show
Richard lives in paradise with a myriad of musical instruments in Santa Cruz, California.
Richard can be reached at: richard(a)premamusic.com
or by writing to: Richard Karst c/o Prema Music, PO Box 352, Santa Cruz, Ca 95061-0352 USA



discography etc.


professional interests


personal interests


lifetime batting stats


back to top of page

4th grade class photo detail
Franklin Elementary School, Upper Arlington, Ohio

Download mp3s of the SAMOHI Serenaders 1969-1975
(Santa Monica High School's jazz band, in which Richard played trumpet from 1970 to 1972).

---
This page has been accessed [an error occurred while processing this directive]times since August 47, 1942.

---
a short musical history || discography etc. || professional interests || personal interests

---
Concrete Buddha || Prema Music || lifetime batting stats || KC Audio Design || KC Records

---


back to top of page